Swimsuit Fitness Girls
Everyone wants to look her best when she hits the beach. One-piece, two-piece, tankini swimsuits -- your preference doesn't matter. What matters is feeling confident whatever bathing suit you wear.
These swimsuit fitness girls show that being fit and active is incredibly sexy.
Yoga Outdoors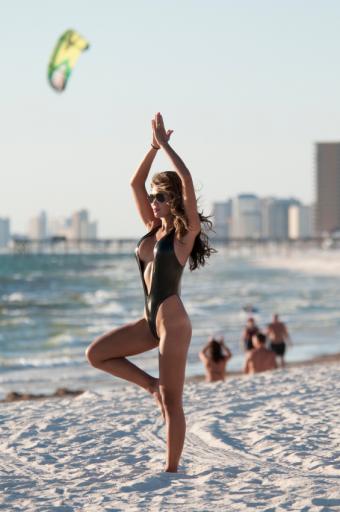 You don't have to perform your yoga stretches in a gym if you don't want to.
Breathing freely in the fresh ocean air is a great way to fit in your workout in a new environment.
Surf's Up
When was the last time you saw an out-of-shape surfer? Probably never, as surfing is a great conditioning exercise.
You need excellent balance and coordination to succeed, which help surfers keep up an active lifestyle.
All Eyes on You
Red is such an attention-getting color that you have to be confident to wear this bright shade.
Two-piece bikinis don't always have to be ultra-revealing -- this basic suit is perfect for sunning, running or playing.
Beach Play
If lying on the sand isn't your idea of what to do at the beach, you may prefer game play.
An exciting volleyball match gets your heart pumping and your competitive skills jumping.
Healthy Competition
This gallery of swimsuit fitness girls demonstrates just how attractive a fit and healthy body is.
More women fitness models can provide inspiration and ideas on a variety of workouts.